Camp Okeechobee
Okeechobee, Florida,
Image Gallery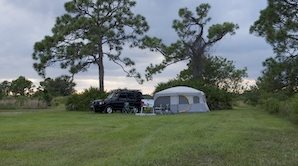 We are open for Dry Camping!
Nestled between the Florida Cycle Park motocross track and Okeechobee Shooting Sports range is Phase One of our new Campground. If fun is what you are looking for- we are the campground for you. We may not be that quiet pristine creekside sanctuary for meditation, but we are a campground for outdoor enthusiasts that enjoy the shooting and motocross sports.
Currently we have dry campsites with a shower and bathroom facility for our guests. Power and water RV hook ups will be available in the very near future.
Campsites are $65 per night and each site comes with your choice of either:
Two All Day passes to the Rifle and Pistol lanes
or
One All Day Gallery pass.
Either one is a $30 value.
Park Features
Amenities
Restroom/Shower Facilities