From the mountains and lakes of North/Central Alabama to the sugar-white beaches lining Alabama's southern Gulf Coast, Alabama offers you a camping adventure like no other. Travel to a wonderful destination that offers unmatched hospitality, delectable cuisine and internationally recognized attractions and events.
Alabama Association of RV Parks and Campgrounds (Alabama ARVC)
The Alabama Association of RV Parks and Campgrounds (Alabama ARVC)  provides campground owners and operators with the support and tools necessary to run a successful RV Park business. There is strength in numbers, and as a member you'll belong to a powerful team that focuses on the common needs and interests of all RV parks and campgrounds. Campinalabama.com is the official website of the Camp Alabama Guide and online directory.
Camp Alabama Directory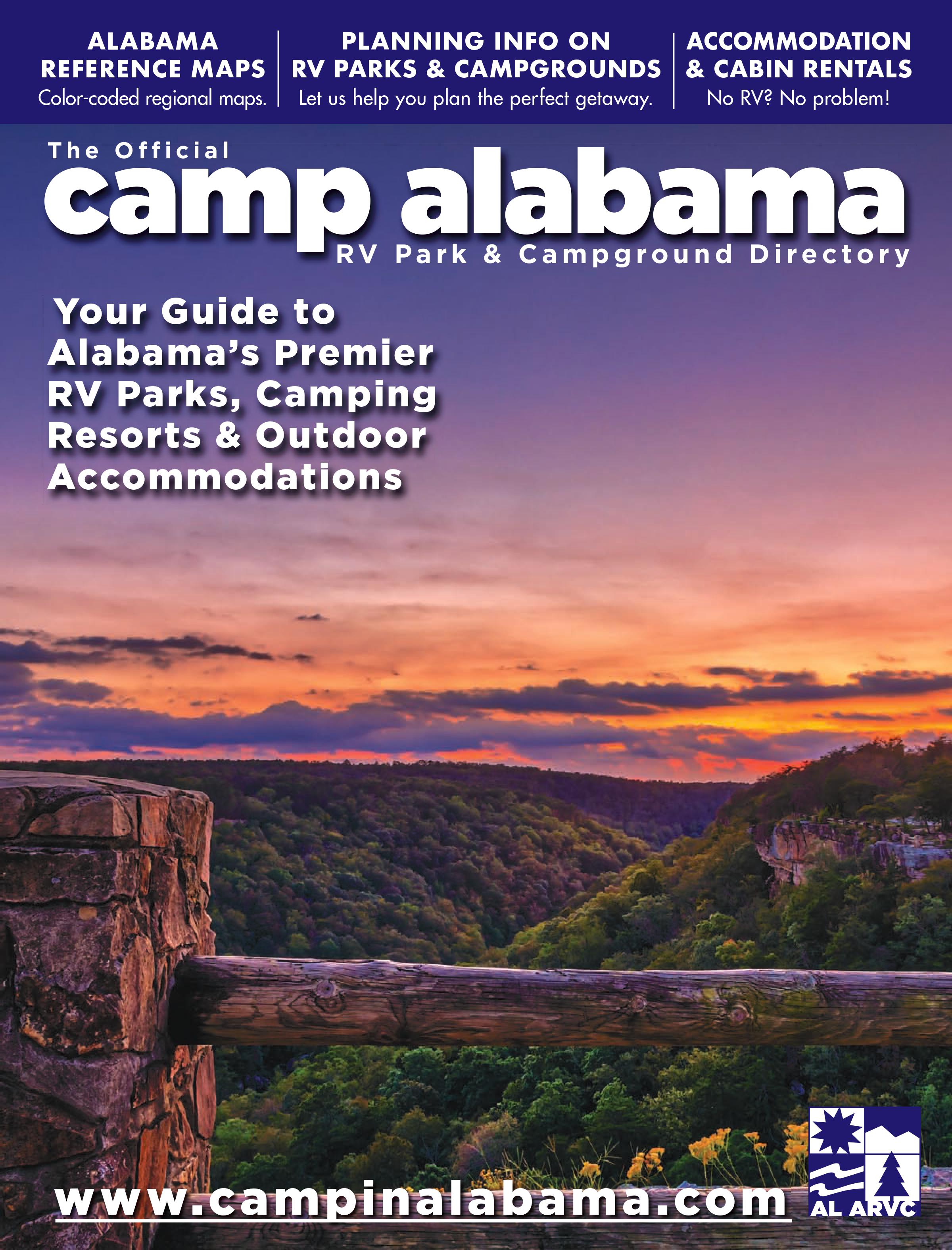 Alabama ARVC produces the Camp Alabama printed directory each year. The four color Camp Alabama Directory includes regional Alabama maps and advertising from RV parks and campgrounds located throughout Alabama.You can request a directory, for free on their website. 
Explore Alabama's Three Regions
NORTH ALABAMA is full of fantastic festivals, music, shopping and of course, natural beauty. All types of eco-based activities reign supreme in this region with its many lakes, mountains and caverns. Hike, bike, kayak, fish, swim, find waterfalls, view wildlife and immerse yourself in the great outdoors. Other "must sees" include the birthplace of Helen Keller in Tuscumbia, Birmingham Botanical Gardens, the US Space & Rocket Center in Huntsville and the Unclaimed Baggage Center in Scottsboro.
Learn more at campinalabama.com
CENTRAL ALABAMA is an adventure through history but don't miss its cultural, sporting and the delicious dining offerings along the way. Learn how this region played a central role in defining national civil rights by visiting museums in Montgomery and Tuskegee. Other "must-sees" include the Alabama State Capitol in Montgomery, the International Motorsports Hall of Fame in Talladega and the Confederate Memorial Park in Marbury.
Learn more at campinalabama.com
SOUTH ALABAMA is a collection of quaint seaside towns and eclectic inland communities. Tour historic homes or battleships. Anglers can try their luck and catch "the big one", or you can catch the rays on the sugar-white sand beaches. The "must sees" include the Battleship USS ALABAMA in Mobile, Weeks Bay National Estuarine Research Reserve in Fairhope, Shorter Mansion in Eufaula and the world's only monument to a pest, the boll weevil in Enterprise.
Learn more at campinalabama.com
Explore Alabama's Attractions
Enjoy heart-pounding action at Talladega Superspeedway, site of Nascar records for speed and competition. The International Motorsports Hall of Fame and Museum is adjacent to the track.
Huntsville's US Space and Rocket Center
Launch into a space exploration experience at Huntsville's US Space and Rocket Center. Sign kjds on for Space Camp, visit the IMAX theatre, or tour the museum showcasing rockets and space hardware from the US space programme.
Explore Birmingham, Alabama's largest city, nestled in the foothills of the Appalachian Mountains. Attractions include the Alabama Adventure theme park, McWane Science Center and IMAX theatre, the Birmingham Museum of Art, and the Alabama Sports Hall of Fame.
Trail of the Civil Rights Movement
Follow the history trail of the Civil Rights Movement that started in Alabama with Dr Martin Luther King Jr . Visit actual sites in Birmingham, Montgomery, Selma and Tuskegee.
Visit Montgomery, Alabama's state capital and the first White House of the confederacy. The Hank Williams Memorial in Oakwood Cemetery Annex is a mecca for country music fans. Attend the sixth-largest Shakespeare Festival in the world held year-round at the Carolyn Blount Theatre.
Head south to Mobile, a major seaport, and touch living military history at USS Alabama Battleship Park. It includes the battleship, submarines, and aircraft from every war since WWII, even the Lockheed A-12 Blackbird.
Celebrate Mardi Gras in Mobile, birthplace of the Gulf Coast Mardi Gras in 1703.
Play golf at the Robert Trent Golf Trail in Mobile, while the kids are entertained at the Gulf Coast Exploreum Science Center.
Walk the white, sugar-sand beaches of Gulf Shores or indulge in some serious beach resort rest and recuperation.