Explore Colorado, a year-round playground. Colorado boasts the high peaks of the Rocky Mountains, a rich mining history, fascinating family dinosaur digs and many more camper delights. Diverse tourist attractions can please every member of the camping family from railroads to skiing to beautiful flowing rivers. Colorado is the ideal place for any camping enthusiast. 
Colorado Campground & Lodging Owners Association (CCLOA)
The Colorado Campground & Lodging Owners Association (CCLOA) is the professional trade association for those who operate Colorado outdoor hospitality businesses: campground, RV park, resort, glamping, and other lodging options for outdoor enthusiasts.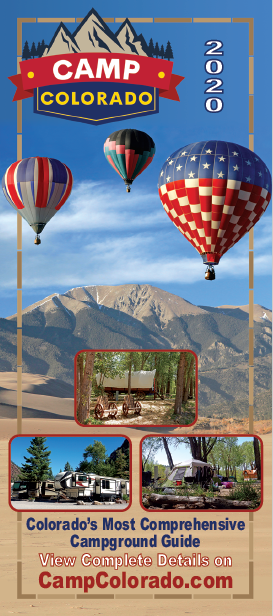 Visit the CCLOA online directory called Camp Colorado to explore more information about camping in Colorado. You can request a printed guide on the Camp Colorado website. 
Explore Colorado's Attractions
Colorado Skiing
With spring conditions bathing still-snowy slopes, now is the time to visit Colorado ski country and get your last runs in before the season truly ends. For the resorts whose lifts have stopped running for the season, they're already making plans for next season.

See what Colorado has to offer
Hike one of the state's 54 "fourteeners" – mountains that reach an altitude of more than 14,000 feet above sea level. Go whitewater rafting down one of our many rivers. Ride a mountain bike along the Colorado Trail, a route famous for its 435 miles of trails. Or, try something new. Load up a llama or packhorse with your equipment and hike to the backcountry. Or, live like a cowboy and take a horseback ride at a Colorado dude ranch. You'll also find plenty of relaxing activities waiting for you. Take a dip in a natural hot springs, get a massage at one of our many resorts or go antiques shopping. There's never a shortage of fun things to do in Colorado.

Colorado Casinos
You'll find nearly 40 casinos in Colorado, where you can play the slots and tables games. In addition, many also offer hotels, dining and entertainment. Our three mountain gambling towns are easy to get to and even fun for the whole family. Central City and Black Hawk are located within a mile of each other, just 34 miles west of Denver. Cripple Creek is 48 miles west of Colorado Springs.

Colorado Shopping
From major shopping districts to exclusive boutiques, brand names to one-of-a-kind creations, Colorado offers great shopping all over the state.  A day of shopping can lead you from outlet malls to world-class stylish salons, where you'll find jewelry, clothing, collectibles, art, historical memorabilia and souvenirs – just to start with.

Colorado Mines
Mines-You won't have to do much digging to uncover the many historic mine tours in Colorado. Explore all the tunnels and learn why prospectors came looking for fortune

Colorado Breweries
Colorado has more breweries per capita than any other state in the U.S. And, we've been brewing beer since the 1800s. In addition to major breweries, Colorado also has one of the largest concentrations of microbreweries (producing specialty beers in smaller quantities) in the nation, with nearly 100 located throughout the state. Most of the breweries offer tours of their facilities as well as beer tastings. The Great American Beer Festival, the largest domestic beer festival in the United States is held each year in Denver.

Pikes Peak
Enjoy 30 attractions and activities within 90 minutes of Denver. Order your free visitor's guide with everything there is to do from the top of Pikes Peak to the bottom of the Royal Gorge. We have historic trains, rafting, biking, horseback riding, historic and family attractions.

Dinosaur Ridge
Visitors can experience the state's earliest historic sites including Dinosaur Ridge near Morrison, Dinosaur Monument in Northwest Colorado and Picketwire Canyon in Southeast Colorado as well as the earliest residents, the Ancestral Puebloans, at Mesa Verde National Park, Hovenweep National Monument and the Anasazi Heritage Center all located in the Southwest. The state's rich American Indian heritage can be experienced at galleries and festivals across the state in addition to museums and sites such as the Ute Indian Museum, Koshare Indian Museum and along the Trail of the Ancients Scenic and Historic Byway.

Denver Art Museum
The Denver Art Museum has one of the nation's finest collections of American Indian Art. Just a few miles outside of Denver, and from its renowned symphony and opera, you'll find the legendary Red Rocks Park and Amphitheatre, where you can see some of the biggest names in music in an open-air, natural rock formation acoustical setting. Farther west, Grand Junction offers topnotch talent and entertainment in a small town setting, with many live theaters including the Cabaret Dinner Theater and Metro Playhouse, attracting Broadway actors for their productions.